Kamis, 28 Mei 2009
Michelle Obama is still the centre of attention on the fashion scene with her recent appearance at the American Ballet Theatre held at the Metroplitan Museum.
In the audience from the fashion industry were designer Ralph Lauren, the former model Iman, editor Anna Wintour of Vogue and Carolina Herrera among others.
Here's what some had to say about the first lady's style of dress.
It always amazes me how fashion recycles itself. Styles you swore you would never wear again after the 70's or 80's is revamped on the catwalks year after year after year and we find ourselves wearing them again. Now fashion designers are going even further back in time to the roman days and so we have the Grecian style dress making a comeback on the catwalk.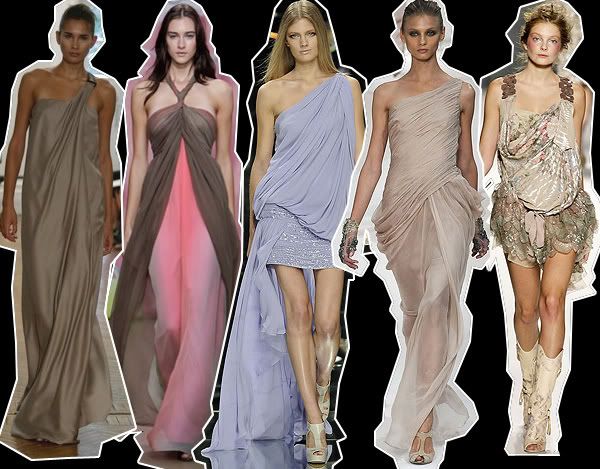 Runway looks from
Chadwick Bell
,
James Coviello
,
Elie Saab
,
Valentino
and
Kenzo
Pictures from
http://www.fashionising.com/
We had Michelle Obama appearing in her Grecian styled inaugural ball dress designed by Jason Wu. But the Grecian dress is not only about the off the shoulder or cold shoulder dress but is also characterised by the flowing draping silhouette effect including grecian knots and halter cuts.
Not quite Michelle Obama's inaugural dress but this
Draped Grecian Style Wedding Dress
is both feminine and elegant. This full length wedding dress is beautifully designed and detailed with a draped and pleated front and deep V at the back. An exclusive, luxurious look from Autograph for your wedding day.
If you are looking for your classic black versatile number then this
Dyer Grecian Jersey Dress
by Malene Birger is the perfect day-to-evening saviour if ever there was one. This works beautifully with simple accessories and
flats
or for a more glamorous look for evening - the plunging neckline allows for a statement necklace like Munique's
Veil of the Incas silver jewellery gift set
.
This One shouldered,
grecian dress
is the perfect party dress falling just above the knee. Made from 100% organic cotton, this wide, gathered shoulder strap and ruched neckline dress is belted at the waist.
Or if you had a longer evening dress in mind for your night out then try this
Teatro embellished Grecian dress
with embellished waist detail.
Perfect with Munique's handmade
Rose Sandal
in metallic bronze leather.
Selasa, 26 Mei 2009
Look what D and I came upon this weekend ~ an original Kiddie Koop! When I turned the corner in the basement level of the River Market Antique Mall and saw this, I had no idea what it was until I saw the xeroxed copy describing this crib/bassinet/playpen from the 1940's. The photo of the baby in the advertisement drew my attention as it looked like some sort of circus attraction ~ it really looks like a cage as it has mesh screen. This one seems to be missing its top ~ yes, there is actually a lid on this contraption! Aside from the wire screen, the chipping lead based paint and the multiple pinching hinges, it seems a wonderful place to keep your baby entertained ~ and contained. What mother wouldn't love to keep her little monkey locked up in a cage while she cooked dinner or caught up on the laundry ~ plus, the rolling wheels would make it easy to transport the little tot anywhere ~ as long as you live in a one story home. I was so entranced by the oddity, that I never did even look at the price ~ also, I've already bought my sister and her husband a baby gift ~ I'll have to put this on the back burner for someone else!

While looking for visuals to go along with my photo, I found out that the Kiddie Koop was, by some accounts, designed by none other than Buckminster Fuller, the father of the geodesic dome. You can read more about the Kiddie Koop here and here. The advertisement above and the images below are all from daddytypes.