sin cara unmasked pic. sin
AidenShaw
Mar 23, 09:59 AM
LOL! You might want to ask them what the data rates on the actual hard drive (or drives) in the case is. LaCie makes nice stuff, but it's quite gimmicky to only talk about interface transfer rates when the real performance is dependent on the hard drives.

2.5" laptop hard drives, at that, for the 1TB model.

In RAID-0 no less, so the probability of failure is doubled.


ETA: Two 500GB 7200RPM RAID 0 drives should be pretty fast. Quick check on a random such drive and kicking around some numbers gives around 2GB/s sustained. Fine, you win, we can transfer that HD movie in 2.5 minutes instead of 30 seconds ...

Do you mean 2 Gb/s ? No laptop drive can sustain 1 GB/s - few can sustain much more than 100 MB/s.
---
sin cara unmasked wwe. wwe sin
NachoGrande
Mar 29, 12:38 PM
Microsoft should work on perfecting windows before starting a mobile OS

They already have. Have you used Windows 7? It's been flawless for me.
---
Sin Cara Unmasked: PWPIX.
Let me see... wars in Iraq, Afghanistan, Libya... high unemployment in the USA. Cost of energy is killing the average guy in the pocketbook. I know... lets spend our time getting those terrible DUI apps out of the app store... that way we can tell our Constituents what a great job we are doing representing them in Washington.

PS

Don't forget to vote (them out).
---
who is sin cara unmasked.
whooleytoo
Sep 14, 06:22 AM
It seems very odd that Apple would adopt the iPod nano look 'n' feel on the iPhone, when they've just dropped it on the nano itself. On the other hand, it's possible the nano's look was changed to differentiate it from the upcoming iPhone - though I don't buy it.

The scroll wheel looks very low on the front of the device, meaning it's hard to use it with your thumb without the phone toppling out of your hand (as with many current phones).

Whatever about the design, if Apple could make any attractive phone, which is stable(!!), with a snappy UI (!!!), and with tight integration with the Mac (contacts, calendars/schedulers, perhaps even tighter integration with Address Book), I'd snap it up.
---
who is sin cara unmasked.
You don't hear this much crying in a hospital nursery.
---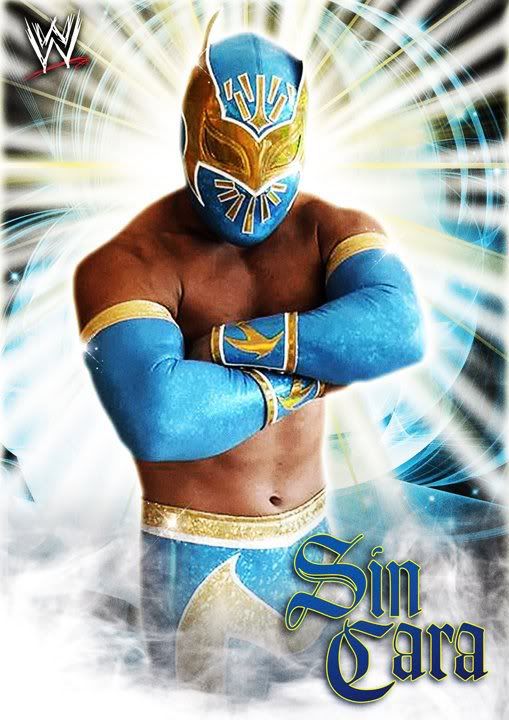 Wwe+sin+cara
johnfkitchen
Feb 24, 07:44 PM
Having been bitten numerous times by McAfee, I never believe their press releases.

Way back, I subscribed to their virus and firewall software. I tested the firewall, and it worked. Until they updated it to a slicker looking interface. Some sixth sense made me test it again, and bingo, my computer was exposed. McAfee customer "support" was not interested. They had my annual subscription, and that was all they wanted.

After ripping all McAfee code out of my PC, I was dismayed to find that my employer signed up for McAfee products.

Months and months of slow PC, followed by bricking thousands of employee PCs with their encryption-at-rest software.
---
sin cara unmasked photos. let
bking1000
Apr 28, 05:49 PM
can't stand balmer, and I love my Apple stuff, but we need a strong Microsoft, and they've just been soooooo lame the last (what?) 5 years? maybe 8 years?

It would be a darn shame if they dwindled away to nothing. They need new leadership.
---
sin cara unmasked and rey
I converted to Linux in 2007 and Mac in 2009 after using Windows since version 3.1 and don't miss a thing! It's true what they say "Mac's just work."

That is the funny thing I was thinking about either going Linux (just so I don't need to listen to my mac wife tease me about my conversion to the light.) But if I want something that as you say "Just works" why go linux, I might fool around with that by setting my Dell up to dual boot, just upgraded it to 300 GB internal drive so plenty of space.

I had also thought of grabbing a netbook, and making a hackintosh, but that isn't reliable or realistic for daily computing needs either.

But I must say the thing that was perhaps the most instrumental in my thinking of going mac, was android.

I wanted a phone that just worked and was looking at iPhone vs Android. In my opinion the iPhone is a more reliable platform, due to the fragmentation of droid. Too many manufacturers, with their own independent specs, and a separate entity creating the software.

If you extrapolate the fragmentation of droid argument, it is an equally valid argument against windows.

Apple is in my opinion the Volvo of the computer world. And at this point, working full time, while also taking night classes and working on an undergrad degree, a volvo is what I need.

On a side note, I just went to the apple store, and looked at the 27" imacs....

Ok, maybe I just should get one of those when they refresh. I thought my wife had the 27", but she must actually have the 24"

Those 27" ones are very pretty. More space than I have on the 2 screens I have now combined. I could just use my Ipad 2 when I get one as a 2nd remote screen and call it a day. Damn they look nice.

I've been told "Once you go Mac you don't go back!"

Judging from my experience with my iPhone 3GS making me wanting to get an iMac 27" inch Quad Core I may agree.

I think that is what my experience is turning into. Just swap for a iphone 4 and not caring as much about quad core.
---
wwe sin cara unmasked photos.
DavidLeblond
Apr 20, 11:34 AM
Has to have some back and forth that could be tracked.

GPS devices don't transmit. I think they'd have a much shorter of a battery life if they were sending signals to the satellite.
---
sin cara unmasked. sin cara
That's not true. I always find it annoying when I hear "THE App Store".
Which app store?

If that's not true, then where were you hearing the term "app store" used before apple trademarked it? No question there are multiple stores selling apps now, but if it was a generic term then there should be examples of use before the trademark filing. Example?
---
SIN CARA UNMASKED(PHOTO)
MrCrowbar
Apr 19, 10:16 AM
Apple is starting to be less and less inovative. The iPhone UI hardly changes for the last 4 years. But hey, lets sue everybody.:rolleyes:

That's the whole point: do it right the first time and stay consistent. People don't want to learn new things all the time. There's so many 30+ year olds who are seriously afraid to upgrade from Windows XP to Windows 7 because it seems so different. I like buying the new version of something I already know as opposed to not knowing at all what I'm buying, spending precious hours of my life learning how to do the things I already could do on my old gadget.

When you buy a car you know how to drive it, set the mirrors and seats without reading the manual. If someone came out with a car without pedals and steering wheel, there will be a lot of people rejecting it before even trying it out. People don't want to learn to drive again. Innovation in user interfaces is when you take something that used to be complicated and make it simple. If it wasn't complicated from the beginning, there's no reason to change it unless you notice you did something wrong.

Lots of smartphones are total iPhone ripoffs with added features. They're seemingly slower, more complicated and crash more though. There's some things I absolutely hate about the iPhone, but it's an okay tradeoff.
---
Sin Cara Unmasked: PWPIX.
aegisdesign
Sep 10, 08:40 AM
My point as just that if intel doubles the number of cores every 6th month, I believe that lifespan of a Mac is going to be substantially shorter. I doubt that the people who just bought a new MacPro realized that their computer would be as fast as an "entry level" computer within a year. Old Macs, like my own MDD, will be deemed to live in a time-bubble with now means of interacting with newer computers.
Things have certainly changed after the PPC ->x86 transition.

Software will also have to keep up and unless your software becomes massively multithreaded and what you're doing can actually be multi threaded there's no real advantage to multi-core CPUs.

This is already a problem with Quicktime in that it doesn't scale past 2 cores. You'll find half of your computer under utilised for instance when transcoding video in Quicktime.
---
wwe sin cara unmasked photos.
tigress666
Mar 23, 04:53 PM
I personally think passing around checkpoint info is protected under free speech. But, to repeat myself, anyone who is over the legal limit and uses an app to avoid a DUI is a selfish, irresponsible *******.

+1.

Though I've heard of cops pulling people over for flashing their lights at oncoming cars to warn of speed traps... I wonder if those people managed to get out of that ticket with the "Freedom of speech" (I hope they did).
---
sin cara unmasked and rey
Primejimbo
Apr 30, 01:57 PM
One step closer to the MacBook Air update.

Weren't they just updated in October? Yes it may be closer, but not for a while yet considering the last update was over a year. :rolleyes:
---
sin cara unmasked 2011. sin
I have just had confirmation of one of our suppliers that new iMacs are on the way next week. He didn't elaborate on the details though.

Next week is gonna be expensive.
---
sin cara unmasked images. him
80GB iPod seems like the only model with good value/price ratio. :D The home sync feature is an especially nice touch, something people predicted since the 2G iPods.


what do you man by home sync... i missed lot of info. and i could not find anything on that...
---
wwe sin cara unmasked photos.
mdntcallr
Oct 27, 01:17 PM
well, i believe in saving the environment. but they ought to stick to the space plan for the convention.

Dont go PETA route. be nice, but get the message across
---
wwe sin cara unmasked photos.
technicolor
Oct 12, 12:38 PM
And all my classes are cancelled tomorrow, so I can stay home and watch Oprah. :D
---
Blue Panther unmasked, Pic
w00master
Nov 13, 01:52 PM
Jeff LaMarche's (co-author of "Beginning iPhone Development") take on this situation:

http://iphonedevelopment.blogspot.com/2009/11/rogue-amoeba.html



I definitely can see both sides of the argument. And I speak from personal experience. One of my company's apps, CraigsHarvest, was rejected for a similar reason: we had included a cropped version of the Setting app icon in our help file, in order to better direct our users to where to changes their settings. But Apple rejected it because we were using their icon. So, we complied and removed its usage.

But there has to be some kinda happy, middle-ground here. There already are a number of Apple-owned icons that we are allowed (in fact, encouraged) to use, such as Compose, Action, Bookmark (see below attached images). Maybe Apple could expand the range of images, icons, etc. they own that we, as developers, could be allowed to use.

And Gruber's response to this response:

http://daringfireball.net/2009/11/airfoil_touch_situation


Sorry, but imho there is absolutely *no* reason to defend Apple here.

w00master
---
Chupa Chupa
Sep 12, 03:27 PM
what do you mean my windows is close not to upgrade??

and also, is there any chance that i might be succeeding in returning it... or even getting a refund??? i mean i took the vinyl cover off and just totally used it... can i return it right back to the apple store??


You can return or exchange it but you'll have to pay a 10% restock fee ($25 or $29 depending on which one you bought). If you bought the 30GB just stick with the "old" 5G. If you bought the 60GB version then $30 is worth the price for another 20GB of storage. But my question to you is, what were you thinking buying an iPod the night before an Apple Special Event focusing on "it's showtime?"
---
stockscalper
Apr 23, 07:39 AM
Yes it is a deal breaker. I actually spend quite a bit of time in bed after lights out surfing and reading, keeping up with stuff (I am doing it at this moment) with the brightness at the lowest level +1 to not disturb my wife, and its definitely not enough to see the keyboard.

I also like it for taking notes in a dark presentation room. I got the newer air and returned it after a week (and gladly paid the restocking fee) because of this alone. I really liked the reduced weight and bulk, didnt miss the optical drive, but I gotta have that keyboard backlit.

right now I tend to use the ipad when I am just reading, but when I have to type it gets awkward, so I break out a laptop.

I use mine in dimly lit rooms too, but have not problems because I can type. It's a fantastic machine and not to get one because the keys don't glow in the dark is just plain stupid.
---
MacPhreak
Oct 12, 03:45 PM
Ha ha, You are nuts. Let me tell you how it works.

Nobody gets rich by curing a disease. That is why diabetes, AIDS, HIV etc are all treated with "Keep you alive but not cure you drugs" that you have to buy for the rest of your life. The government and drug companies are in it together and are pure evil. Ain't nobody going to cure anything unless they can keep making money doing it. Get it? Good.

So how's your Polio treating you?
---
I highly doubt Apple is the forth worse company in the world. Greenpeace is just trying to ride Apple's popularity. I love it when groups practice civil disobedience, get punished, and then complain about it. You break the rules, you are supposed to get punished. That is the point of civil disobedience. Anyway, Greenpeace isn't stupid, even if they have lost thier way.
---
Joshuarocks
Apr 19, 10:17 AM
I'm salaried (aka "Exempt") in my job. We used to clock in and out but they made us quit several years ago and now there is no tracking of our hours. I was told at the time it was a legal requirement that we not be made to clock in and out.

In any event, there are rules defining what jobs are and are not eligible as exempt. There are lots of references online with information.

http://www.ehow.com/facts_5179644_exempt-salary-vs_-non-exempt.html

Btw, the unemployment rate is NOT 8.9 percent.. its a lot higher than that and in my state its about equal with all the other states in this blasted union.
---